by Amelia G : March 17th, 2009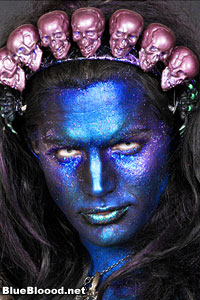 Last week, I started seeing all kinds of links in to Blue Blood from American Idol sites. As I have not been watching American Idol this season and have never covered American Idol on this site before, this seemed peculiar until we started receiving emails with subjects like Adam Lambert Nude, Adam Lambert Gay Kiss, Where can I find naked pics of Adam Lambert? and suchlike. Actually, this still seemed a bit peculiar until People Magazine got in touch with us and emailed us the photos we shot which everyone was talking about.
Now, of course I recall Forrest Black and yours truly shooting American Idol finalist contestant Adam Lambert. He is pretty memorable. I have also photographed guys before. Naked guys even. This does not mean that every single person, out of the thousands I have ever pointed a camera at, has stripped down at some point in the shooting process. In case this is not already blindingly clear, allow me to state categorically that we photographed Adam Lambert and Cheeks at a costume event sponsored by Blue Blood and promoted by Xian. Everybody at the event was clothed and most were even costumed. There was nothing scandalous about Adam Lambert being dressed up glam; he looked great and it was a costume party. So, no, I do not have any naughtier pictures than the portraits in this Adam Lambert gallery.
To all the ignorant prudes who hide their own bigotry behind platitudes about what "other" people in "flyover states" will think, I don't think a few sexy images have exactly hurt the careers of any modern (like post invention of photography) musicians. Anybody heard of David Bowie, Keith Richards, Marilyn Manson, Twiggy, Madonna, Deborah Harry, Slash, Jeff . . .
( Read more )