by Amelia G : March 12th, 2009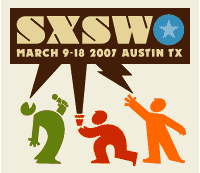 SXSW is upon us once again. This reminds me that I meant to post the podcast of a panel Halcyon and I and this camgirl Seska did at SXSW. Halcyon is the king of coming up with humorous, lurid, and otherwise catchy panel titles. This means that, like me and like most web professionals, he has about a billion funny site domains. His main home on the web is currently CockyBastard, although Pinkgasm is listed in the SXSW credits. I'll spare you all full bios, but SXSW edited my bio to say "Amelia G holds the titles of editor, writer, and photographer who founded Blue Blood" instead of just saying I'm an editor, writer, and photographer. My title on my business cards says chick-in-charge and writer and photographer are not titles. SXSW is a fun conference and they felt very strongly this particular year that it was vital that they refer to those things as titles, so I rolled with it and who knows what process they used for deciding how to specify site or company for each guest speaker.
At any rate, here is the MP3 podcast of our panel:
Pay Up! Should Publishers Choose the Porn Path?
Moderator: John Halcyon Halcyon Styn Digital Explorer, Pinkgasm
John Halcyon Styn Digital Explorer, Pinkgasm
Amelia G Chick in Charge, Blue Blood
Seska Lee Sajnet

As the public becomes more comfortable paying for premium content and services, what can we learn from the pornographic trailblazers? What billing models and payment systems are working online in porn that would successfully crossover to mainstream? What types of content and services can types of sites are ready for the Porn Path of Pay to Peruse? The panel will include veterans in . . .
( Read more )