by Amelia G : August 6th, 2009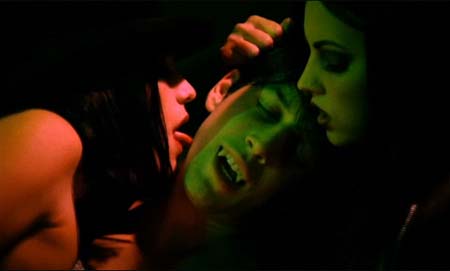 69 Eyes have released a video for the debut single off their forthcoming Back in Blood album. The video is called Dead Girls are Easy. It is sort of an 80's sleaze rock video homage where the 7/11 clerk fantasizes about the hot gothic girls who prance through his store in the midnight hour. In his fantasy, the goth chicks turn out to be vampires who take him for a ride in their black as night car (a 70's boat style Cadillac), gangbang him, and of course turn him into a vampire. Oh yeah, and the 7/11 clerk turns out to have a slammin' bod hidden under his horrible orange uniform and he looks much hotter under blue light. Really, everyone looks hotter under blue light (See The Matrix, Underworld, and probably around a quarter to a third of my own photographic body of work.) Then the clerk wakes up and is it a dream or isn't it? Sort of classic rock video/fairytale storyline.
For some reason, the Dead Girls Are Easy video has been released exclusively for Playboy so far. There is (alas) no nudity in the video, so I assume other outlets would have no problem with it.
Dead Girls Are Easy is directed by Bam Margera. I am embarrassed to say I had to . . .
( Read more )