by Amelia G : April 30th, 2010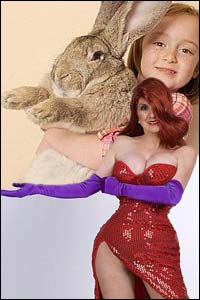 The Inquisitr reports that one Annette Edwards of Worcester, UK is the world record holder for breeding the largest bunny rabbit, a Continental Giant named Darius. This would be more newsworthy if Annette Edwards had not also bred Alice, the rabbit Darius took the title from now that he is longer than four foot three inches. This would be less newsworthy if rabbit breeder extraordinaire Annette Edwards had not also undergone plastic surgery to look as much like Jessica Rabbit as possible.
For those of you wondering who Jessica Rabbit is, she was the va-va-voom girlfriend of the accused cartoon bunny in the 1988 film Who Framed Roger Rabbit?. Who Framed Roger Rabbit? was ground-breaking in its mix of live action from human actors and animation from Toon Town. Director Robert Zemeckis has made extensive pioneering use of special effects technology in a spectrum of movies including Back to the Future, Forrest Gump, Death Becomes Her, Polar Express, and Beowulf. In Who Framed Roger Rabbit?, Roger's honey Jessica is a curvy redhead who claims she is not bad; she is just drawn that way. Jessica has a sexy smoky voice, probably voiced by an oddly uncredited Kathleen Turner, and exactly what you'd expect from a dame in a noir frame-up. So anyway, that is who Annette Edwards is channeling with her plastic . . .
( Read more )