by Amelia G : January 26th, 2009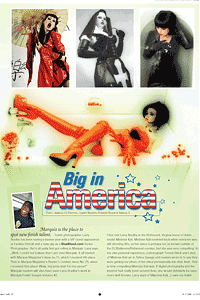 The new issue of Marquis is hitting European newsstands now. This makes twenty-seven or twenty-eight issues in a row of Marquis, the highest circulation glossy fetish magazine in the world, which have featured work by yours truly and Forrest Black. As you probably know, Forrest Black and I of course do the Big in America column.
For Marquis No. 45, Big in America was a spotlight on fetish photographer Larry Bradby. I first met Larry Bradby at the Richmond, Virginia home of fetish model Mistress Kali. Mistress Kali modeled back when everyone was still shooting film, so her name is perhaps not as known outside of the DC/Baltimore/Richmond corridor, but she was very compelling. In my own personal experience, a photograph Forrest Black and I shot of Mistress Kali ran in Tattoo Savage and readers wrote in to say they were getting our photo of her inked permanently into their flesh. That is how compelling Mistress Kali was. If digital photography and the internet had really been around then, she would definitely be even more well known. Larry says of Mistress Kali, "I owe my fetish photography success to her. She was the one that pushed me into fetish photography. Being a very good friend, I took her advice and put all of her ideas on film with my Pentax ME Super."
Larry Bradby's first big photo credit was, poetically enough, when he won the Marquis readers contest back in Marquis No. 11. Blue Blood has just inked a deal with Larry Bradby to run a huge number of erotic sets by him on BlueBlood.com. You all can expect the first one of sexy Nicotine, who you all know from the forums . . .
( Read more )