by Amelia G : June 23rd, 2009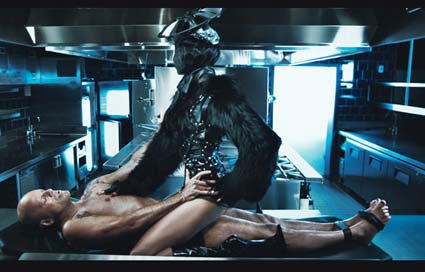 Steven Klein is a photographer best known for his collaborations with Madonna, so it is probably no shock that some people might find his work shocking. I just think it is really beautiful. Bruce Willis and his new bride Emma Heming are featured on the cover of the current issue of W. W is one of those magazines that doesn't really pay but encourages creativity.
So Steven Klein and stylist Camilla Nickerson were free to really go to town on this Honeymoon Hotel photo shoot. The feel is cyberpunk fetish and the apparent chemistry between Bruce Willis and Emma Willis is really nice to see. There's the Videodrome style television love, the domination, the leather, the bondage, the nudity, the spikes, and the giant boots. There is even a hint of cyberpunk corporate chic spy intrigue, evil clowns, and medical fetish. The gear is mostly by Alexander McQueen, Tom Ford, Dolce & Gabbana,Giorgio Armani, Max Azria, Dior, Nicole Miller, Michael Kors, and Givenchy, although, except for Alexander McQueen the big kinky boots are somewhat uncredited. Of those designers, I find Michael Kors is the best for me personally for kinda regular wear. I would definitely wear Alexander McQueen couture if it were free (and probably made in bigger sizes too), but it is easy on the eyes anyway. I wore Dolce & Gabbana when Forrest Black and I were presenters at the Firecracker Alternative Book Awards and presented an award to Steve Diet Goedde. Which I think is why fellow honoree Michael Madsen . . .
( Read more )