by Amelia G : January 27th, 2009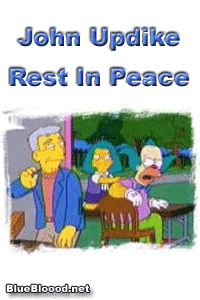 Writer John Updike passed away this morning. I used to confuse John Updike and John Irving, so I was, as a child, afraid to pick up a John Updike book, for fear someone would get their penis chomped during a blow job. Of course, that was "The World According to Garp", but I already said I was a kid when this confused me.
Most obituaries today will probably mention the Harry "Rabbit" Angstrom novels which won John Updike two Pulitzers. The series is Rabbit Run, Rabbit Redux, Rabbit Is Rich, Rabbit At Rest, and Rabbit Remembered. I don't really recall why I confused Rabbit and Garp, other than perhaps just the fact that both participated in somewhat unappealing grown-up sex I was too young to understand. I've seen a few obits today which refer to John Updike as a chronicler of small town life", but only people from Manhattan think Ipswich, Massachusetts is small town America, John Updike wrote about the suburbs during a time when Americans were migrating from the cities to the burbs. On the topic of adulterers from suburban New England, John Updike once famously said, "if I have not exhausted it, it has exhausted me." (Actually, I've seen that quote written a few ways over the years, so he once famously said something kinda like that which expressed that sentiment.)
For a writer, John Updike's commitment to actually produce writing was inspiring. He was very candid about the fact that his prose writing paid the bills more than his fiction did, and that he liked the security of knowing that something along the lines of a book review would be published . . . and paid for. The Simpsons alluded to this in the episode "Insane Clown Poppy" where . . .
( Read more )