by Amelia G : April 1st, 2009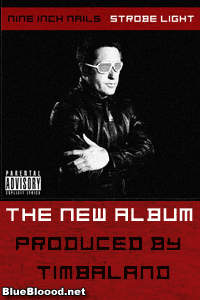 Trent Reznor announced today that his whole new album Strobelight is available for download on the Nine Inch Nails web site. The following song list contains a who's who of people who guest on other people's tracks.
track list:
1. intro skit
2. everybody's doing it (featuring chris martin, jay-z AND bono)
3. black t-shirt
4. pussygrinder (featuring sheryl crow)
5. coffin on the dancefloor
6. this rhythm is infected
7. slide to the dark side
8. even closer (featuring justin timberlake and maynard james keenan)
9. on the list (she's not)
10. clap trap crack slap
11. laid, paid and played (featuring fergie of the black eyed peas and al jourgensen)
12. feel like being dead again
13. still hurts (featuring alicia keys)
14. outro skit
Here are the instructions from the NIN site to get your absolutely free free free goth-industrial album via download, before it is available anywhere else:
To download NIN's new full-length album Strobe Light, PRODUCED BY TIMBALAND, enter a valid email address . . . A download link will be sent to you immediately. Your credit card will be charged $18.98 plus a $10 digital delivery convenience fee. Your files will arrive as windows media files playable on quite a few players with . . .
( Read more )