by Amelia G : March 25th, 2009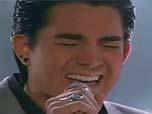 During country week on American Idol, I expressed mild surprise that Adam Lambert had not gone for a more Elvis country vibe when he covered a song made famous by Johnny Cash, the original man in black, called "Ring of Fire". Maybe someone should give me a music label or a reality show to produce because during the kickoff to Motown week today, Adam Lambert performed "Tracks of My Tears" in a sharp pale cool gray suit with a dark shirt and went for a less made-up look with just dark mascara and a rockabilly hairstyle with a clearly intentional Elvis circa 1957 vibe.
The judges seemed surprised that he cleaned up so well. Judge performer Paula Abdul went so far as to call his look for the evening "classy". Did she really not notice that there was a hot man under the guyliner there before? Elvis dyed his hair black too. Most people who can do one flamboyant look fabulously can also do another. I am a fan of eyeliner on guys and a rocker look, but everybody likes Elvis Presley and any rock guy who can do an Elvis look is going to do so some time. It's like a rule. I was more impressed by the emotional range Adam Lambert's performance showed.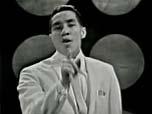 "Tracks of My Tears" is a song about putting a happy face on and showing everyone else a good time, while you ache inside. I know it is a song which really speaks to me personally. "Tracks of My Tears" was first performed by Smokey Robinson and The Miracles in 1965. Smokey Robinson was on hand tonight to check out this season's American Idol contestants. "Tracks of My Tears" was written by Smokey Robinson, Miracles guitarist and fellow founding member Marv . . .
( Read more )