by Amelia G : March 19th, 2009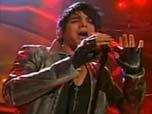 In response to the recent Adam Lambert photos post, Forrest Black commented on Adam Lambert's performance during country week on American Idol, saying:
"I'm a big Cash fan and I really enjoyed Lambert's rendition a lot. I thought it had the right level of heat. I expected something more Elvis country, but this was a version of the song I'd listen to again on purpose."
On the show, at the time of the performance, American Idol judge Randy Jackson compared Adam Lambert's rendition of "Ring of Fire" to Nine Inch Nails singing Johnny Cash. In point of fact, Johnny Cash sang NIN's Hurt so Trent Reznor and Johnny Cash have collaborated. The cross-promo Johnny Cash and Trent Reznor did with the Hurt video was pretty awesome because it introduced a lot of each of their fans to great new music. The man in black and the man with a honey with head like hole black as your soul do have similar measures of anger and anguish and torment and insight in their work.
At any rate, Blue Blood has been receiving emails informing us that Adam Lambert's American Idol performance of "Ring of Fire" was not his rendition at all. These emails then go on to detail erroneous "facts" which the writers appear to fervently believe.
The Random House Dictionary defines rendition as "an interpretation, as of a role or a piece of music". The American Heritage Dictionary defines rendition as "An interpretation of a musical score or a dramatic piece, a performance of a musical or dramatic work". Princeton University's WordNet defines rendition as "a performance of a musical composition or a dramatic role, the act of interpreting something as expressed in an artistic performance".
On American Idol, Adam Lambert told country singer (and American . . .
( Read more )