by Amelia G : June 30th, 2009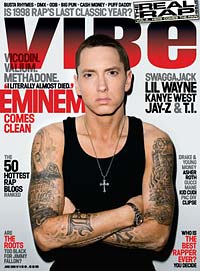 Years ago, a photo Forrest Black and I shot of Malcolm Jamal-Warner was almost published by Vibe. At the time, Malcolm Jamal-Warner was starring on Malcolm & Eddie with Eddie Griffin, but still best known for whatever it was he did on The Cosby Show. (I can't speculate because I've never seen The Cosby Show, although I have seen a Chris Rock spoof of it.) I admit that I was interested in shooting him mostly because he was a charismatic guy with the world's largest diamond tongue ring, at a time when tongue rings were still, ya know, radical. Vibe expressed interest and held onto the print for months. I was really excited to appear in such a large circulation music and lifestyle magazine then, but, alas, they eventually passed and sent my stuff back. No idea why to this day.
But now I know Vibe will never be on my list of credits because effective today, the magazine has ceased to exist. Staffers were in the middle of work on a Michael Jackson tribute issue when they received a memo, from CEO Steve Aaron, telling them they could basically go home. Vibe was hit hard by a combination of lack of access to venture capital and the huge decline in advertising, especially in Vibe's bread and butter automotive and fashion categories, due to either recession belt-tightening or companies plain going out of business. I'm not a . . .
( Read more )