by Amelia G : July 1st, 2009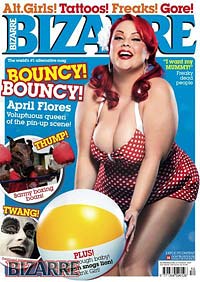 Blue Blood hottie April Flores is on the cover of the new issue of Bizarre. This is her second time gracing the cover of Bizarre. Only a few women, such as Masuimi Max, Bianca Beauchamp, and Aria Giovanni have been on the cover of Bizarre more than once, so April Flores is in a pretty exclusive club there.
Last month, you saw the video of the Topco April Flores Toy art show curated by Carlos Batts.
Photographer Martin Perreault shot this April Flores Bizarre cover as well.
April Flores is also starting work on designing a plus size sexy clothing line. She always has something going on.
Congrats to April Flores for making the cover of Bizarre yet again. Blue Blood girls are . . .
( Read more )