by Amelia G : April 16th, 2010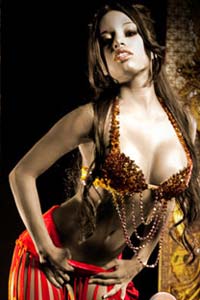 Although the photo at the right does not show her in a red cape with boots, Lupe Fuentes should really be wearing a Mighty Mouse costume right about now. Last week, she flew from Spain to Puerto Rico to give crucial testimony on behalf of her fan Carlos Simon-Timmerman.
See Carlos Simon-Timmerman took a trip to Venezuela and made the error in judgment of buying a DVD called Little Lupe The Innocent, Don't be Fooled by her Baby Face . . . at a flea market. On his way back to New York, he was arrested during a stopover in San Juan and his DVDs were seized. A flea market pirate DVD is not likely to have a lot of information on the packaging about who produced the videos or photos or how to get in touch with them. So Carlos Simon-Timmerman spent months in jail, awaiting trial on charges of possessing and transporting child pornography, crimes which could result in a twenty year stretch in prison. Fortunately for him, Assistant Public Defender Héctor L. Ramos-Vega and his legal team know that the thing MySpace is most effective for is getting in touch with pornstars. They contacted Lupe Fuentes aka Zuleidy Lapiedra aka Little Lupe and she agreed to come to Puerto Rico.
Lupe Fuentes was really the last hope the defense . . .
( Read more )