by Amelia G : April 12th, 2009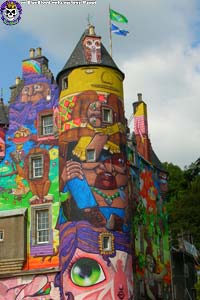 The Kelburn Castle and Estate fully opens to the public on Easter and maintains regular hours from Easter until November second. Although Kelburn Castle has many historical and architectural features of interest, the aspect people tend to find most notable is the graffiti-covered portion.
A couple of years ago, it was determined that parts of the concrete rendering were probably going to need to be replaced in the relatively near future. Concrete rendering or plastering is the surface placed on the outside of stone or brick walls for a combination of weatherproofing and texture. In this case the harling or pebbledash was applied to the walls primarily because soft sandstone requires careful weatherproofing to last. David and Alice Boyle, the children of the tenth and current Earl of Glasgow, thought it might be fun to use upcoming renovations as an opportunity to have famous graffiti artists paint a portion of the castle.
So the family commissioned a team of Brazilian painters called Nina and Nunca and the duo Os Gemeos or, translated from Portuguese, The Twins, who are known for their yellow figures and ability to garner establishment regard for what some might view as vandalism. This team of four graffiti artists were invited to do their thang on a castle wall legally, instead of guerrilla style. MTV competition-winning audiovisual artist and music festival scenester luminary Elliot Thomson of Preamptive and the multi-pronged . . .
( Read more )