by Amelia G : April 4th, 2009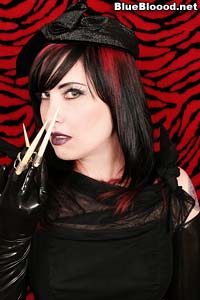 Blue Blood hottie Serena Toxicat recently mentioned that she would be showing thirty of her art pieces at the Blow Gallery in Berkely, California. If you are in that neck of the woods, you can stop by 2112 Berkeley Way, Berkeley, CA 94704 for an evening of hotties like Serena Toxicat, art, and possibly some free booze. Most gallery shows have free booze. I try not to examine why too closely. Here you can examine the conversation Serena Toxicat and I just had about art.
Amelia G: What first got you into creating? Were you always creative?
Serena Toxicat: Apparently as a 5 year-old my painting looked like pointillism. My 1st grade art teacher raved about the stuff. After my dad saw how much I liked to color and paint, his best friend bought me a set of acrylics and I never looked back, except to kick my own ass to make more. I do so many things in the world of art and performance that my productivity in any one area tends to ebb and flow.
Amelia G: What are your favorite media to create in and how to you feel writing vs. visual arts compare for expressing yourself?
Serena Toxicat: I love acrylic and just developed a system whereby I draw in marker over an acrylic base. I also like making sculpture with found objects and occasionally indulge in photography. I made . . .
( Read more )