by Amelia G : December 24th, 2009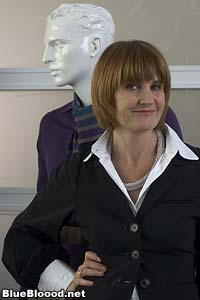 Some people like to get inspired for the day watching televangelists at 6am, while they get ready for work. Me, I'd like to have a channel of all shows like Mary Queen of Shops on BBC America.
Mary Queen of Shops comes from the same team which produces Gordon Ramsay's F Word and Ramsay's Kitchen Nightmares, both shows about how to improve commercial kitchen work. My problem with the Gordon Ramsay shows is that I can't watch most food television without getting insanely hungry and desperately craving whatever is being prepared. Basically, I have way too low a threshold for food porn. Mary Queen of Shops has a similar format with none of the insatiable craving for sauteed scallops in some special parsley butter sauce following viewing.
Mary Portas is a branding and retail consultant for fashion enterprises. Each episode of this show, she takes a small floundering independent boutique and helps it improve the way it does business. She is a strong advocate of fabulous service and careful market segment focus. It doesn't even matter if one always agrees with everything she says because part of the show's appeal is that it puts one in a business frame of mind. It makes you think about what you would do in whatever situation is being presented. Mary Portas comes across as high energy and even playful, while simultaneously being aggressive and can-do. She seems like she would be both a lot of fun and a formidable adversary.
Fascinated by her powerhouse on-screen presence and my own wish for more shows with this sort of business theme, I started casually researching her background. The best bit I found was that she got a gig as Creative Director at Harvey Nichols, after being in charge of window dressing at both Harrods and Topshop previously. At Harvey Nichols, she not only brought in cool designers like Vivienne Westwood, but she arranged for extensive product placement and name shoutouts on the TV show Absolutely Fabulous . . .
( Read more )