Blue Blood is currently considering new photographic submissions from now through the end of September 2014. Work will be considered on a rolling basis and deadline for this reading period is September 30, 2014.
While Blue Blood is open to beginners, it is a creative venue for established photographers, artists who have a vision and are committed to their craft. Blue Blood is primarily interested in contributions from those who have a significant body of work. Photographers Blue Blood has published include Justice Howard, Gunter Blum, Carlos Batts, Bodó Janos Attila, Chad Michael Ward, Ashley Fontenot, Christine Kessler, Roman Sluka, Larry Bradby, Julie Simone, Jim Hancock, Jay Allan, and, of course, Amelia G and Forrest Black.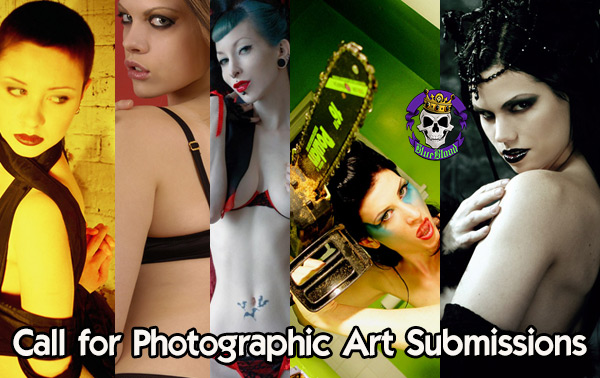 Publication process:
(1) Create great work (or find that collection of great work you've created.)
(2) Porfolio review: Email samples or a portfolio link to submit@blueblood.net. Social media profiles, such as Instagram or even ModelMayhem, are fine for the purpose of a portfolio to show what your work is like. If you are accepted to submit, you will receive an invitation at this stage. Blue Blood considers portfolios from all, but Blue Blood only accepts actual set submissions from invited artists at this time. If you do not hear back within 2 weeks, please feel welcome to contact again to follow up.
(3) Receive a DropBox invite.
(4) Submission: Submit your full completed sets via DropBox.
(5) Get your work accepted and complete final paperwork.
(6) Get published, tell everyone you know, get paid, and celebrate!
(7) Repeat
Themes to consider in selecting what to submit:
GothicSluts.com – gothic girls, the more dark eyeliner/black lips/bats/spiderwebs/fishnets, the better
BarelyEvil.com – punk teens, strange insertions and devil themes are plusses
EroticFandom.com – science fiction and fantasy themes, cosplay, comic books, monster makeup, vampires
RubberDollies.com – latex and rubber couture, both on and off altmodels
BlueBlood.com – preference for real life counterculture couples shoots
Models with more than 50 completed shoots, and at least one popular social media profile, are also invited to query about doing a site themed around them.
It is strongly preferred that a number of photo sets be submitted at the same time. Most sets feature a sequence of some sort and tell a bit of a story and thus end up being 60 to 160 images. Rates can be higher, if you do the post-processing, but you do not have to. Less explicit sets are expected to be shorter and more explicit series are usually longer. Work submitted on a piecemeal basis is generally considered long after work submitted in batches. Submissions will be temporarily closed after the September 30, 2014 deadline.
via BlueBlood.com