by Amelia G : September 12th, 2010
Are ray gun vibrators steampunk? This is the sort of question I lie awake at night contemplating.
Steampunk is a sub-genre of science fiction/fantasy/speculative fiction, which builds on the works of H. G. Wells and Jules Verne. Now H. G. Wells and Jules Verne were both geniuses and can be forgiven for imagining future technology as based on 19th century inventions and future values as growing out of a Victorian sensibility. They both came of age in the 1800's, so they'd have a reason for this.
Personally I love the steampunk aesthetic. It's, ya know, really really pretty. When I see all that broken or antique clockwork and gears, though, I admit I think Salvador Dali or William Faulkner. I think of the poetry of broken or past time, the ephemeral nature of humanity's existence. I don't think that I wish I were born in a time when American women could not vote and men were supposed to sexually overload at the sight of a table leg without a skirt on it.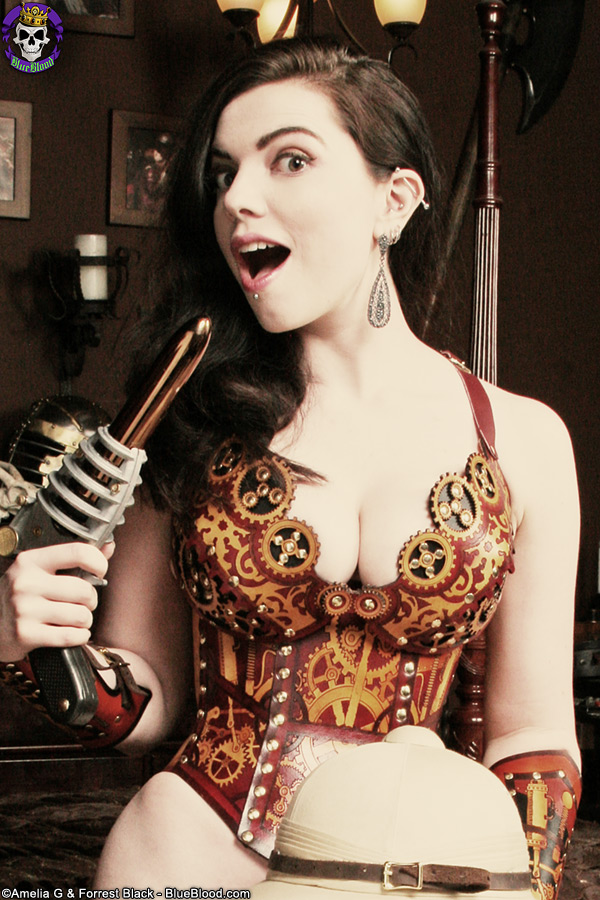 Blue Blood readers will be familiar with the lovely Nicotine, who portrays Lady Clankington, as part of the tongue-in-cheek history of the little death ray sex toy rayguns line designed by "mad Dr. Visbaun". Lady Clankington always wears steampunk couture garments from Brute Force Studios. The mad scientist behind . . .
( Read more )