by Amelia G : August 12th, 2009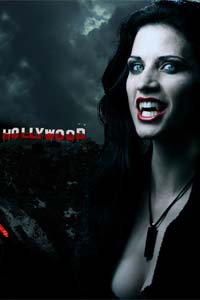 It is no secret that I love the vampire genre. I received Honors at Wesleyan University for my thesis on vampire legends as a paradigm for aggressive human sexuality. And I would like the record to show that I will be speaking on exactly that topic this weekend at Vampire Con in Hollywood. I'll be taking part in the panel programming Sunday afternoon, after the movie nights, and before Vampirella's Ball (more on this in a moment.) I'm excited that Wendi Mirabella and Lotti Pharriss Knowles have put Vampire-Con together.
The panel I am on is called Hot-Blooded: Vampires & Sexuality and is at 1pm at the Henry Fonda Theater on Hollywood Blvd. It will be moderated by David J. Skal, Author of Hollywood Gothic and V Is For Vampire: The A-Z Guide Of Everything Undead. I'm especially excited that Pam Keesey, who I'm looking forward to catching up with will be on the panel. She is the editor of multiple anthologies of lesbian vampire tales, Women Who Run with the Werewolves: Tales of Blood, Lust, and Metamorphosis, and Vamps: An Illustrated History of the Femme Fatale. Pam Keesey has a very engaging personality, has published yours truly, and once gave me a tour of Forrest Ackerman's memorabilia collection. Other panelists are Hal Bodner, author of Bite Club: A West Hollywood Vampire Tale, filmmaker Fred . . .
( Read more )