by
Amelia G
: July 26th, 2009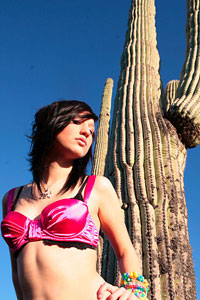 In just a few weeks, EroticBPM is going to be having a rave in Arizona and lots of girls who have stripped down sexily for EBPM will be there. We've got a little
free EroticBPM photo gallery
featuring some of the confirmed guests, including Eyecandy, Jamie, Money, River, Lucky, Stevie Neko, Uzi, and Ziggy. The best stuff is in the members area of
EroticBPM
and there is a party bonus for members. Details below in my exclusive interview with EroticBPM's Scott Owens about the Lingerieve party.
Amelia G: What festivities are planned for the party?
Scott Owens: It is EroticBPM's 10 year anniversary and we are having a Lingerie-themed rave in Phoenix, AZ. August 22nd. We just confirmed DJ Swamp for the lineup (Beck's old DJ)
Amelia G: What was the reason for this event's choice of locale and venue? Who is involved with putting it together?
Scott Owens: The reason we chose Phoenix is because Ebpm photographer Clix is also a rave promoter in the area. We have a lot of models from Phoenix and he has all the resources to make it happen . . . Clix from clixbagoftricks is doing most of the real work.. Ebpm is of course making sure lots of models will be attending and providing any additional support . . . We *might* also do a dvd of the
. . .

( Read more )