by Amelia G : June 21st, 2009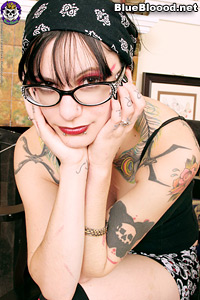 New issue of Tattoo Teasers is on newsstands now. This issue features two super long layouts from BlueBlood.com shot by yours truly and Forrest Black. The set we shot of Bella Vendetta which graces both the masthead page and a seven page layout was at the home music studio of good friends of Bella Vendetta's. The current issue of Tattoo Teasers also includes a second huge seven page layout Forrest Black and I shot of Rachel Face at the most excellent bar Plan B in Portland.
This edition of Tattoo Teasers includes an interview with my fellow Wesleyan University alum Tristan Taormino. Long time Blue Blood readers will probably recall that we published Tristan Taormino's erotic fiction and wrote up her delightful tome The Ultimate Guide to Anal Sex for Women. Although she and I have sometimes, alas, had missed connections, Tristan Taormino will always have a soft spot on my heart for getting me my first book deal when she worked at Masquerade Books which published my Backstage Passes: Rock and Roll Erotica from the Pages of Blue Blood Magazine anthology.
The cover of this issue of Tattoo Teasers, along with a five page feature inside, features pornstar Joanna Angel from web site Burning Angel, which I mentioned here before in my AltPorn Rankings article . Joanna Angel also . . .
( Read more )