by Amelia G : December 5th, 2008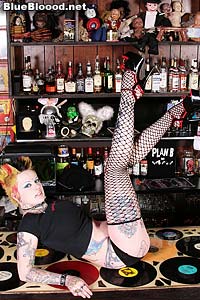 Happy Repeal of Prohibition Day! So a Dewar's ad pointed out to me that we should all celebrate the Repeal of Prohibition on December 5. I thought to myself that that was a great idea, but wondered if it would catch on. On December 2nd, Fleshbot did a feature on December holidays which included a New Years photo Forrest Black and I shot of Miss Bunny and which also put "December 5: Repeal Day: The 21st Amendment ends Prohibition" in their sexy calendar.
I got drunk for the first time at the Baptist Mission in Israel. Yes, the Baptists send missionaries to the Holy Land and so does everyone else. And my friend Elisabeth Bjerreaugaard-Pederson (who I would love to find me via Google) and I thought some of the missionaries' kids were hot and so we drank with them, having no idea what we were doing. I got my real drinking merit badge drinking with Marines in Germany at age sweet sixteen. Blue Blood is sweet sixteen now, but Blue Blood has a curfew. Unlike sixteen-year-old me. To be honest, I'm a fan of water and, although I enjoy going drinking very occasionally, I feel the most important thing about today's holiday is the celebration of freedom. I just don't like being told what to do in my personal life and the Repeal of Prohibition was a win for personal liberty.
I thought it would be fun to celebrate the day with (besides drinking of course) some free sexy barroom photos Forrest Black and I shot of Rachel Face. I seem to have spent a lot of time in bars with Rachel, sometimes shooting and other times drinking. One of the things I enjoy . . .
( Read more )