by Amelia G : November 11th, 2008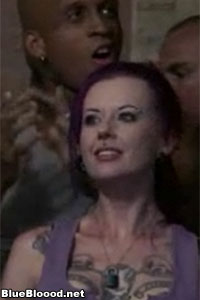 Yesterday, I posted a review of the new Christian Slater show My Own Worst Enemy and a gallery from My Own Worst Enemy. I was excited when I tuned in that night to recognize Nixon Sixx in the audience for an exciting martial arts competition scene. Christian Slater's super spy personality Edward Albright has pointed out to his regular guy personality Henry Spivey that their son Jack Spivey, played by Taylor Lautner, has been lying about going guitar lessons. Jack invites his parents to come see what he has actually been doing, which is competing in some form of aggressive and underground-looking version of bo staff combat matches. Taylor Lautner actually manages to do a nice job with a Christian Slater carnivorous smirk here. Helping show how energetically excited about the match the audience was, Nixon Sixx had the highlighted audience member role closest to Christian Slater. Nixon is fabulous at bringing a good positive energy into any room. We have a gallery of MOWE stills from the show, but you can watch the whole series to date for yourself on the NBC site now, including the ep with Nixon, episode 104 – "This Is Not My Son".
Amelia G: Do you like watching fighting in general, go to any sorts of fight or martial arts-oriented events or watch any of those sorts of shows?
Nixon Sixx: Not really. I'll watch some martial arts just for the movement, like Capoeira, but the only time I actually go to a fight is when Thunderdome has events.
Amelia G: Have you ever done a martial art yourself in real life and, if so, which one?
Nixon Sixx: I did Aikido for a while, and a . . .
( Read more )