by Amelia G : October 4th, 2008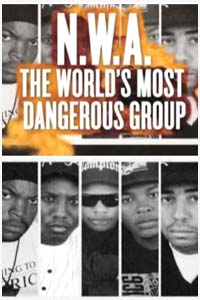 I watched the Rock Docs: NWA: The World's Most Dangerous Group documentary about NWA last night. Surprisingly, it made me think and actually somewhat changed my view on some things, most notably Ice Cube. I know, if something on VH1 made me think, apparently intentionally, then WTF is up with the universe?
I loathed Ice Cube the first time I heard his solo music. I first heard it at a time when the hip hop industry was working overtime at making it acceptable for white people to buy rap albums. Longtime Blue Blood readers may recall an article I wrote for the print magazine about my love of Ice T, which I called "I Shot the Sheriff and the Deputy". (I'm a witty girl.) But the first stuff I heard by Ice Cube was not about the things I could relate to in an Ice T record. If there was anything about rage, disenfranchisement, and reaching for power on there, it was most definitely not for me. Ice Cube went on and on and on about how much white people overall suck and Asian people are this and Jewish people are this and white women are all ugly and blah blah blah. Apart from the deliberately alienating lyrics, this was also a time when rappers didn't really tend to be that good-looking. Music television was around and MTV was instrumental in popularizing NWA, but let's just say Ice Cube didn't really have the good looks of LL Cool J, Nelly, or 50 Cent. Ice Cube looked like the pissed off guy who, if you had a party at your house, would get drunk and start breaking stuff as soon as his friends started having fun or getting laid. . . .
( Read more )