by Amelia G : October 31st, 2008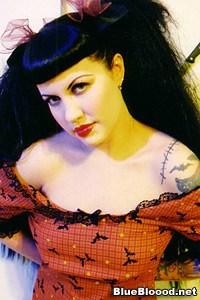 Dana Dark is one of Blue Blood's online OGs. It was after staying at her beautifully-appointed home in Houston for a week that Blue Blood launched its first membership site. Dana creates beauty and warmth in every little nook and cranny of her home. Like, if there is some tiny square of wall in the bathroom, she will think of the perfect antique frame or something like that to dress it up. There are now twenty-seven photo sets featuring Dana Dark in the Blue Blood VIP area.
I've spent more than one holiday with Dana and there is seriously nobody who does up holiday cheer better than she does. She really gets into the festive spirit, she is fabulous at decorating, she cooks, and she is starting her own clothing line. When my guy friends look at photos of Dana, she is always the girl they fantasize about marrying.
Amelia G: What are your favorite holidays?
Dana Dark: For me it would be Halloween, Christmas and Easter but I think holidays in general can help us forget about the worriments of our lives and connect us with others – even if it's for only a day.
Amelia G: What are your favorite kinds of Halloween treats?
Dana Dark: As I look back of past young Halloween nights, longing of warm caramel popcorn balls and rice crispy treats still haunts me today. Another favorite of mine are homemade, moist, thick, Halloween sugar cookies with vivid icing and spooky sprinkles. Also a must have beloved treat for this season's spell is a visit to my local Panaderia (a Mexican bakery) for Dia de Muertos Sweet Bread and autumn spiced pastries.
Amelia G: What kinds of Halloween decorations did you . . .
( Read more )