by John Ashton Keller : October 14th, 2008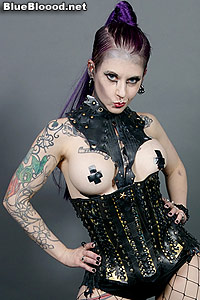 The end of Spring was approaching in San Francisco and that meant that the annual Emerging Illusions Alternative Fashion Show was soon to happen. For those unaware, Emerging Illusions is meant to showcase up and coming fashion/costume designers from the Goth, punk and industrial scenes.
Again, I was honored to be asked to set up a mini studio backstage and shoot the models and designers, make-up artists and hair stylists and anyone else who wanted to pose.
The smell of make-up and hair spray filled to backstage area. Nearly every square inch of floor was covered by people, clothes and props. Activity was everywhere. Make-up being applied, hair being styled, models dressing and undressing, dancers stretching out. It was more difficult to negotiate than the dance floor when the DJ plays everybody's favorite song.
And it was no wonder that it was packed. Each designer is limited to only five or six models and provides their own hair and make-up people. This year, saw 14 designers: Somnabulance, Wisp-her Wear, Gibbous, Severd, Eirik Aswang, Lisa Goblin, The Window Lady, Dragoness, Chelsea Aragon, saKAna Desgins, Larvae, Shawk Designs, Shadow Bound and Clotho Constrictor. Plus there were stage crew running the show, photographers & videographers and the occasional friend of someone.
As I set up my equipment, I looked over the outfits being worn by those already dressed. With fourteen designers, their designs were as diversified as you would imagine with outfits ranging from everyday wear to clubwear to costumes to things you'd probably only wear at Burning Man if you wear anything at Burning Man.
Though I really enjoy the energy backstage, my only regret in being backstage is I don't get to see the show . . .
( Read more )