by Amelia G : July 27th, 2008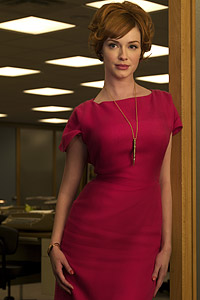 I think Mad Men was probably my favorite television show last season. The show name Mad Men is derived from the ad men who worked on Madison Avenue in New York. The first season of the show revolved around the lives of people who work at a fictional ad agency called Sterling-Cooper in 1960. Despite the fictional nature of the agency depicted, the modern ad industry trade magazine Advertising Age put together a whole fictional issue with news bites, interviews, and profiles of fictional industry professionals. That is some mighty creative marketing.
Don Draper, the primary character on the show, is always quick with a clever word and a creative approach to marketing at work and coming up with the best personal presentation personally. In describing him, one of the his coworkers says, "nobody has ever turned over that rock; he could be Batman." So his carefully-constructed persona has worked for getting his dream job and dream house and dream woman and dream family and a number of spare dream women, but the people he knows both professionally and personally sense that Don Draper is holding back to the point where he is somewhat unknowable.
Show creator Matthew Weiner also wrote a dozen episodes of The Sopranos and produced thirty-three episodes of The Sopranos, so it should come as no surprise that his baby Mad Men is about a lot of things with interlocking multiple storylines and complex and deep characterizations. It is always difficult to make a period piece come across as both convincing and relevant, but Mad Men succeeds brilliantly. In addition the the snappy dialog and strong set design, Katherine Jane Bryant's costume design is nothing short of amazing in its variety, beauty, and . . .
( Read more )