by Amelia G : July 30th, 2008
CONTEST CONTEST CONTEST! Win cool stuffed critters, DVDs, and clothing! Contest rules after the jump below.
Sponsored by Squishable, Lost Boys 2: The Tribe, and Blue Blood Boutique
It has been a while since we had a contest, so here is a new one.
About our beloved sponsors:
Squishable
A couple years ago Zoe and Aaron were backpacking around Southeast Asia doing some volunteering and being bums. They ran into their first fat, fuzzy piggy in Hong Kong and bought it as a tribute to gothic comic book artist Jhonen Vasquez. When they got back to the United States, their huggable pig was immediately kidnapped by rabid fans. And so the Squishable company was born. Their stuffed octopus just wants to be friends, so we've got their extra-friendly alligator for one lucky winner.
Lost Boys 2 The Tribe
The movie Lost Boys 2: The Tribe is out on DVD this week. Somewhere between a sequel and an homage to the original 1987 Lost Boys movie where Kiefer Sutherland's character led a band of vampires, his half brother Angus Sutherland takes up the vamp responsibilities this time around and the flick features references to and cameos from many of the characters from the original.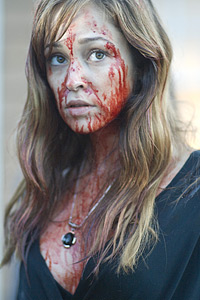 The piping hot fresh DVD has one of those nifty multi-picture hologram covers, a featurette about the movie's stunts, alternate endings, and music videos.
Blue Blood Boutique
The Blue Blood Boutique features a growing variety of Blue Blood branded swag, including plush hoodies, high quality pins, and large waterproof stickers. The primary hoodie designs were conceptualized by Blue Blood art director Forrest Black. Forrest tapped longtime Blue Blood contributor Ed Mironiuk for the store launch to do a redesign on the traditional Blue Blood royal skull. Previous Blue Blood swag has featured work by James O'Barr, Trevor Brown, Slash, Jeb Huffman, and of course yours truly and Forrest Black. Perfect attire for all your club-hopping, con touring, coffeehouse lounging, and before and after sex needs.
Contest rules and prize details after the jump below.
( Read more )