by Amelia G : July 30th, 2008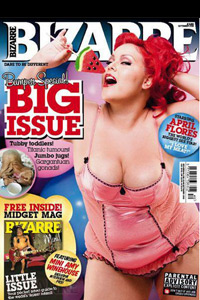 Blue Blood hottie April Flores is on the cover of the new issue of Bizarre. First, Topco does a mold of her to make a lovedoll and now this! The curvaceous cutie writes in her blog:
"I woke up to wonderful news that I am on the cover of the latest issue of Bizarre Magazine!!! What a wonderful honor it is especially since I've been a fan of that magazine for the past 7 years. 🙂

I can't wait to see the pictures inside. Bizarre was wonderful to me! They flew me out to Montreal to shoot with photographer Martin Perreault. The theme of the shoot was all things sweet. I loved it! They had various candies and lollipops for me to suck on and play with. There was a wall of pink and blue balloons, and another set up with bubbles flying all around me. My favorite set up was with me laying on the floor with 6000 candies covering and surrounding my body! It was like a little girl's dream come true and I kept getting distracted by the cuteness of it all.

I've been waiting to see this issue for months now and I am just bursting with excitement. I am off to my local newstand to buy a copy….. YAY!!!"
One thing I have to admit I am troubled by, however, is what a big deal so many people make about April's weight. It doesn't take an open-minded person to find April Flores hot. She is hot. So I am kind of sick of folks congratulating themselves for finding her hot even though she is plus-sized. It just still strikes me as prejudiced for someone who is not particularly kinked for big girls to make a gigantic . . .
( Read more )