by Amelia G : June 21st, 2008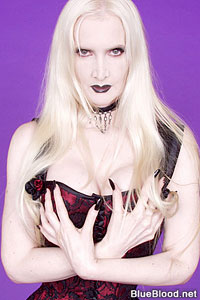 So I was chatting with my pal Anders from the band Anders Manga yesterday. I had just been looking at some snapshots of us partying together at a Hollywood hotspot just off Hollywood Blvd. When I say Hollywood hotspot, in this instance, I mean a place variously called White Lotus, The Ritual Supper Club, the local bus station, etc. where A-listers like Mark Wahlberg can go to bang porn stars cast for the next season of Entourage on HBO. At any rate, I'll post the pics shortly and add a link, but Anders and I were just talking about this and that and he asked if I had heard from Jennifer of The Nuns recently.
Descended from Welsh royalty and initially known as Jennifer Miro in the earliest 1970's incarnation of The Nuns as a seminal punk band in San Francisco, Jennifer steered the band in a more gothic direction over time and was variously known as Jennifer Anderson or Tiffany Tarantula or Maitresse Jennifer. The Nuns were huge in San Francisco and opened for bands like The Ramones and The Damned and were even on the bill for the very last Sex Pistols show. Jennifer also had a role in Dr. Caligari, the seminal cinema of transgression film from Stephen Sayadian and Jerry Stahl, who were also responsible for Cafe Flesh. However, Maitresse Jennifer or Mistress Jennifer is probably best known to members of the Blue Blood boards as the Blue Blood hottie who asked all the most interesting questions about love in the kinky tumultuous world of fame, wealth, and rock and roll.
[13:10] Anders Manga: hey have you heard from Jennifer? from nuns?
[13:10] Anders Manga: she vanished?
[13:11] AmeliaG: not in ages. I was in pretty regular contact with her, so I wonder if she got married or sex murdered
[13:11] Anders Manga: i heard her friend in the band was murd…
( Read more )