by Amelia G : April 7th, 2008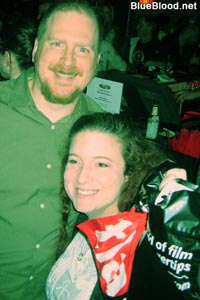 I've written about writer/director/producer Sean Abley's Socket movie here before, when it first hit the festival circuit. Now the movie is out on DVD and available from TLA Video. TLA Releasing put out Socket and the TLA media empire is descended from the Theatre of the Living Arts experimental theatre group in 60's Philadelphia.
A couple of days ago, Sean Abley and a couple hundred of his closest friends got together at MJ's Bar in Silverlake to celebrate the release of Socket on DVD. The event was hosted by promoter Jovy Janolo and producers John Carrozza, Doug Prinzivalli, Matt Mishkoff, and of course Sean himself. The VIP goodie bags included an interesting-looking DVD of a spooky movie called Amnesia, a coupon for a discount on TLA releases, and a pass for thirty free minutes of VOD which promise to "put the HARD back in hardcore DVD." Blue Blood's Forrest Black had the honor of receiving the final goodie bag of the night. The doorman apologized to me and told me he guessed I'd be re-gifting because the stuff in there was for, you know, jacking off. I was expecting the DVD and such to be more like what I would get at a regular business convention for web professionals, but TLA in general and Socket and Amnesia in specific appear to be for the purposes of movie movies and not jack off vids. Then again, I couldn't get the VOD site to load, so maybe my tender sensibilities would have been scalded. Oh, and I'm a chick, so I guess I'm expected to care whether fictional characters romance and fuck exactly who I would personally want and be able to romance and fuck. . . .
( Read more )