Blue Blood Writer TC Celebrates Birthday with Bowling and Pabst
by Amelia G : November 5th, 2007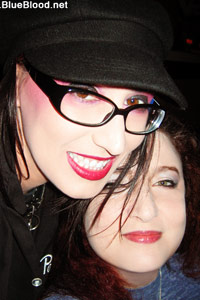 A few weeks back, my good friend TC, lead singer of Satiate and Blue Blood writer, celebrated her birthday. TC is into her Americana, so the theme of the evening was bowling and Pabst Blue Ribbon (and later tittays, tittays, tittays.) We started off the evening at Lucky Strike Lanes. The bowling alley at the flailing Hollywood and Highland mall advertises itself as upscale and I generally end up there fairly regularly when various porn companies rent out the VIP for parties. The teams were roughly divided along band lines of Satiate versus Dead Girls Corporation. I played on the birthday girl's team and we were utterly pasted by DGC. In my defense, although I do not do an approach, I am not a terrible bowler, but Lucky Strike Lanes has an awful ball selection on a weekend night and their lanes are non-standard length and a bunch of their machinery seems oddly timed. Not in my defense, the other team also had to contend with the same sucky ball selection and non-standard lane length and oddly timed machinery. I swear all the balls seemed like they were made for giant steroid users with baby hands, like sixteen pound balls only a little kid could get a finger spread in. At one point, I accidentally threw one of the balls our lane was using when the system was actually changing pins and my ball went down the middle of the lane, got stopped by the pin-sweeper, and just kind of hung out there. I finally went up the lane to retrieve it. To my friends' amusement and the bowling alley personnel's annoyance. I can't help it if I'm a DIY problem-solver.
Continuing my beer-related sports . . .
( Read more )