Hex Hollywood Halloween with Blue Blood
by Forrest Black : October 29th, 2007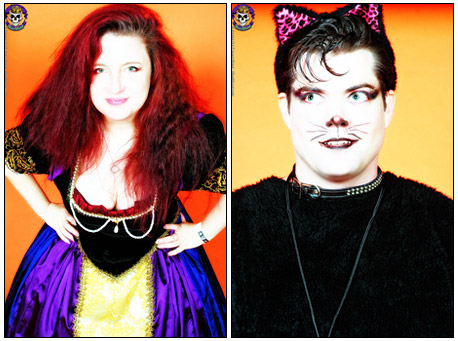 For everyone searching for one of the most spectacular Halloween events Southern California has to offer, we've always had a great time at HEX Hollywood, and this year is even bigger than ever. Blue Blood is proud to once again sponsor this epic Halloween holiday party and we will be in attendance, shooting more beautiful pictures and generally having a blast.
This year, Hex Halloween is taking over the spacious historic Avalon theater, located directly across the street from the world famous Capitol Records building. This theater was the first venue on the West Coast ever played by The Beatles back in 1964 and is even rumored to be haunted by quite a collection of interesting ghosts and spirits, so I know a spooky good time is in store for us. There has even been one regularly spotted on the balcony where Amelia G and I will be taking pictures.
The list of performers, activities, and attractions brought together by promoter Xian and her dedicated staff is truly impressive. There will be five DJ's accross several dance floors, a full program of individual talented performers including Zombie Girl, Inure, the debut of Hex/Rx, Monastic, and even a full Butoh-a-Go-Go show by the Corpus Delecti Butoh Performance Lab. I'm also personally looking forward to seeing the collaborative performance Aesthetic Meat Front (AMF) and Constructs of Ritual Evolution (CoRE), all of whom have been our friends for a long time and always put on unforgettable shows.
Upstairs, in the Avalon's Spider Club, there will be magicians, contortionists, hypnotic hoop twirling performances, and much more, all to the sounds of Gothic Darkwave Synthpop from some of the best spooky DJ's the West has to offer. And, it wouldn't be Halloween without . . .
( Read more )