Stockroom Syren Retail Store Grand Opening
by Amelia G : October 27th, 2007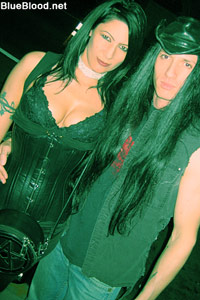 Proving the power of going direct to the people, etailer and cataloguer Stockroom has been on a bit of an acquisition spree. A while back, Joel Tucker's Stockroom joined forces with Syren, Andy Wilkes' latex couturier. At the time, Syren was housed in a small space in the Fairfax District of Los Angeles, an area known best for its good Jewish restaurants and photo and art supply stores. Stockroom has re-opened the Syren storefront in a large space in the Silverlake District of Los Angeles, an area known best for its young hipsters with trust funds and aging hipsters who might have given up on Hollywood ambitions but are still cool and craft-y. The new location for the combined Stockroom and Syren is 30,000 square feet. Customers enter the primarily fetish fashion retail area and can go upstairs to an area with a variety of BDSM gear and sex toys. There are print catalogs for people to take away which have a more complete selection of gear and toys. I hear that Silverlake may have some idiotic zoning ordinance which limits the selection of products which can actually be on disply, but I haven't checked into the accuracy of this. The building also houses manufacturing, warehousing, business offices, and distribution for the company.
The grand opening of the new Syren store, in Stockroom's new amalgamated location, drew a good-sized crowd. I ran into a bunch of people I hadn't seen in ages, which was really cool. Luminaries in attendance included Blue Blood Creative Director Forrest Black, Blue Blood hottie Xochitl, photographer Jim Groves (who will be a Blue Blood photog once his pictures of Gia Primo . . .