Julie Simone Audition Party at Bar 107
by Amelia G : August 26th, 2007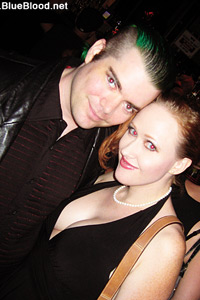 I had dropped the luscious Michelle Aston off at Bar 107 in downtown Los Angeles before, but had never gone inside. For some reason, I had assumed it was a teensy hole in the wall dive. I figured I'd stop in anyway to help Julie Simone celebrate the 12th DVD Release by her company, Julie Simone Productions.
I was happily surprised when the inside of Bar 107 turned out to be larger than expected, with red plush booths and a small stage in the back. The bar could have had more of a selection, especially in the sparkling water department, but it was still very cool.
Julie Simone's new flick, Audition, was playing on televisions mounted up high by the ceiling. I'm not sure if that violates some sort of zoning ordinance, but I always wonder about such things and the crowd was sufficiently naughty all on their own.
Luminaries in attendance included, of . . .
( Read more )