Comic Con 2006 Thursday
by Amelia G : July 17th, 2007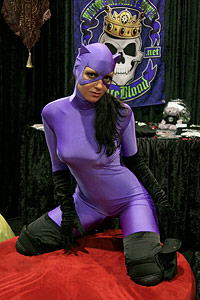 As this year's Comic Con looms near, it is time to take a look back at last year's event. Looking at the gallery of snapshots from the Blue Blood crew's Thursday at the show reminded me of some of the fun we had.
I was excited to pick up entertaining stuff from Shannon Wheeler of Too Much Coffee Man fame. I loved all the crazy Lego, including Lego Batman and Lego robots. Actually, all robots are cool, not just those made out of plastic bricks for kids. BlueBlood.com hottie Yolanda was in the house as well. The lovely blonde, Em, is almost my namesake and is a real mail order Russian bride. Special thanks to The Brotherhood for sponsoring the megabooth and making sure it came complete with a beautiful and personable mail order bride.
I was pleased to be able to literally buy a shirt off the back of the very kind Gwen from Sighco. Gwen and I are around the same size and she was wearing a shirt which read, "Guns don't kill people. Supervillains kill people." Everyone from our spooky ookie artistic folks megabooth was going on a Superhero and Supervillain-themed party bus that night. A bus complete with stripper pole, I might add. Oddly, the booth with the Simpsons costumes and various supergear was just displaying and was not renting or selling them at the convention. I kinda think they left some money on the table there. This meant I really did need that Supervillain shirt right away then and Sighco's Gwen actually took her own shirt off, right on the Comic Con show floor, let me try …
( Read more )