Sit there and say my hair ain't luxurious, when you know that it is, bitch.
by Amelia G : November 18th, 2007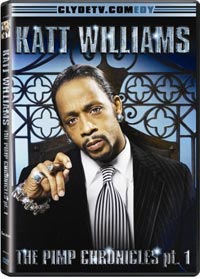 I have a new guru. I just watched the Katt Williams Pimp Chronicles Pt. 1 on HBO. Well, specifically on my TiVo of an earlier HBO broadcast. Anyway, I have this impediment to increasing my personal success as briskly as my work ethic should guarantee. Specifically, every time my accomplishments start coming really fast and furious, in a way which is visible to others, the haters come out. I would like to claim I am immune to haters and their low end bottom-feeder tactics, but I'm not.
I do what I do from a place of love. It sounds corny, I know. But, as I've said many times in the past, the initial print issues of Blue Blood were in many ways a love letter to the scene I had become a part of. The DC scene of the early 90's was this vibrant nexus of punk, fandom, and cyber cultures. In that part of the world, we were less concerned with the genre-quibbling of bigger entertainment business cities. Goth-industrial music was identified as sort of a subset of punk there. Knowing who both Gary Gygax and Wendy O. Williams were was a plus.
The city produced both Chemlab and Fifth Column, and Fugazi and Dischord, and Henry Rollins and 21361 Publishing. Although I was born in London and have lived on three continents, in half a dozen countries, and a whole bunch of states, in many ways DC is the city which most created me as an artist and, as an extension of that, created Blue Blood. I knew all these incredible, artistic, fabulously creative people who just needed a venue to showcase their brilliance. And . . .
( Read more )