by Amelia G : December 10th, 2008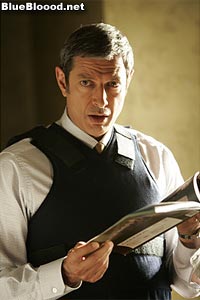 I wonder if Los Angeles has more unqualified people attempt heists than the average city.
I just came in from my balcony. It is too dark tonight to see the Hollywood sign clearly. Or maybe it is too bright and the sign is overwhelmed by the nearly full moon and the holiday decorations visible on top of the Capitol Records building.
I just finished watching the Halloween episode of Boomtown. Boomtown is a long-canceled crime drama, which starred Donnie Wahlberg as a hard-driving detective with a good heart and a depressed wife. Each episode is shot from the point of view of multiple characters, who come together to show the whole story. I imagine show creator Graham Yost probably referenced Pulp Fiction during the pitch meeting. It is a sympathetic way to tell a story, such that the viewer understands where even characters at odds with one another are coming from.
Boomtown's "All Hallows Eve", written by show creator Graham Yost, features, in addition to a pumpkin hunt gone laugh-out-loud horribly wrong, an ambulance hijacked by a heist crew of desperadoes, dressed as cowboys, one of whom has been shot. The ambulance paramedic is one of the show's more lovable characters, yet your heart just goes out to the lead hijacker.
The heist mastermind, Holden McKay, and his wounded brother Sam, came out to Hollywood to be stuntmen. After working as a janitor in a movie studio, Holden decides that a heist would be easy to pull on Halloween, when masks would not seem suspicious. Even though his master crime obviously failed badly enough that his brother got shot, listening to Holden explain how he could have been a janitor in Tulsa, but he came to Los Angeles for something more . . .
( Read more )