pirate Archive
Raven Le Faye posted to Blue Blood VIP in a set by yours truly and Forrest Black called Pirate Booty.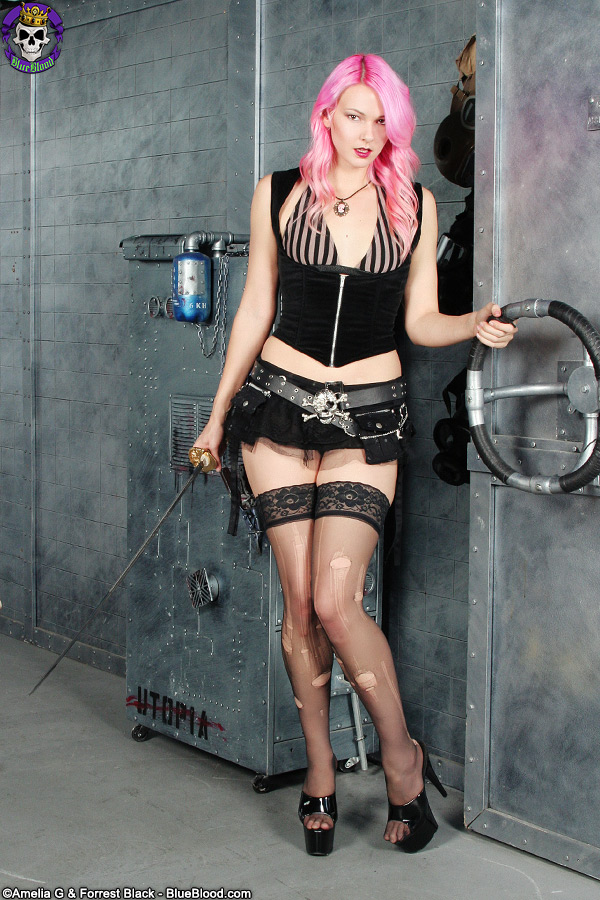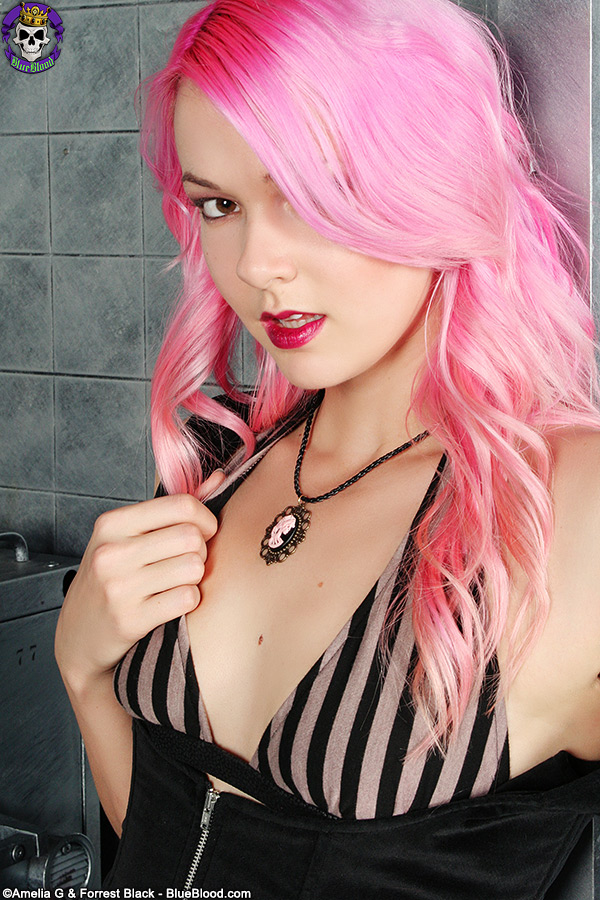 via
BlueBlood.com
Bowling dressed as a pirate tonight was super fun. (Hopefully pics of my ginormous hat and low cleavage will be forthcoming.) We were talking about what someone visiting from England should do in Vegas. When asked "What is the one thing someone visiting should do in Vegas?", my first glib thought was that
everyone visiting Vegas should do at least one thing they shouldn't do
. Upon reflection, I actually think the best part of Vegas is just taking in all the theme hotels in the city where all the six-year-olds who said one day they would have a castle or a pyramid . . . grew up to have castles and pyramids. The snap below is one I took in Vegas which I promised to post. This was not posed; I just knew when to fire the shutter on the camera.
We've got our own pirate booty babes galleries posted on BlueBlood.net here today.
Pirate Wench Adriana
is lensed by Roman Sluka and BlueBlood.com members get to see the whole set. Ditto for
Pirate Wench Lenka
who appears in our little Happy International Talk Like a Pirate Day banner above. The Gypsy Curse font is by illustrator Chad Savage who has periodically worked with Blue Blood on design and drawing projects for many years.
Would you like to place this Talk Like a Pirate Day greeting on your site or on your friends' profiles?
You can copy the code below and place the image right on your own site or LJ or XPeeps or MySpace or other profile to wish everyone a Happy International Talk Like a Pirate Day:
Or, if you'd like BB code for community forums like ours:
by
Amelia G
: September 19th, 2008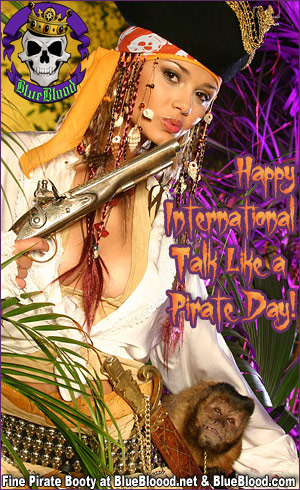 Yesterday, September 18th, I posted a Blue Blood countdown of the
Top Ten Pirate Movies of All Time
. I thought it was a fun round-up of flicks folks could watch to get psyched up for International Talk Like a Pirate Day today, September 19th. Some people got very worked up about the list and one person even tried to claim that the holiday's roots come from the works of Bobby Henderson, founder of The Church of the Flying Spaghetti Monster. If you want to know some accurate history about Talk Like a Pirate Day, you can check out the
Happy Talk Like a Pirate Day
article I wrote for the holiday in 2007. The additional movie suggestions were legion, so I am, however, going to present a few more flicks my pals from the
Blue Blood boards
, LJ, and elsewhere suggested. Just in case you don't have enough pirate movies to watch today yet.
Sinbad
— Blue Blood boards member Skully pointed out that I had not mentioned Sinbad and reminded me of how awesome the claymation in that was when it came out. I actually thought that movie was totally kickass when I was a kid, but I can't seem to find the version I saw on IMDB. In fact, I can't find any claymation Sinbad movie on there at all. I sort of thought the title had to do with the Seven Seas and there are entries with that title, but none which appear to have the sort of special effects that I recall. Please note that I am not hallucinating claymation pirates because Skully remembers the same movie.
Treasure Island, Return to Treasure Island
—
. . . ( Read more )